that is the plan. So we have breakfast, say good-bye to Raj and our other hosts in the Telluridehouse and leave. The bus goes fine, but this might be due to the fact that it is rolling down the hill. We don't even make to leave Ithaca, but stop at "Mc Donalds", use the time for a mini-action, leave "Mc Shit" a few minutes later in order return - but rolling down is still easier than rolling up, and so we get a beautiful walk back besides the waterfalls.
All in all we are damn lucky to break down in Ithaca, and not on the road. So instead of standing freezing next to the highway we have warm beds, absolute delicious food, an extra internet room and even a Ping-Pong and a billiard table.
Time by time interrupted by the alternately news the bus would be working now respective the bus does still not works again, we end up with two lazy days in Ithaca. Thanks so much to the people who hosted us so patiently!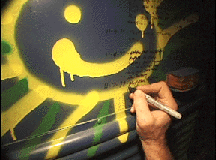 As you can read here, we start a diary of bus-repair events:
But you can only enjoy laziness when you're ready for it. We were ready to leave for Oberlin. There we expected to meet with Asif Rasheed from Pakistan, representing the AWAMI Committee for Development. So he had to represent the rest of the caravan first in working groups in the Harkness House and then on a teach-in at the Oberlin College, attended by more than one hundred students. Ty Moore from a student group associated with the magazine Socialist speaks about the negative Effects of WTO especially on democracy. He invites the students to come to Seattle, and stresses the responsibility of the students for a radical approach against the WTO. Asif explained that in Pakistan already 4000 industrial units had been closed because of the competition with multinational corporations. After Seattle Pakistan is going to sign the WTO agreement. In addition the standard ISO 9002 requires manufacturing quality of the product including which machinery is to be used, so that companies from industrialized countries not only have the advantage of superior production means, but makes it illegal to produce with less "advanced" production means. Next year more than 10.000 industrial units are going to be closed.
and previous day
Thursday, 11/04.99
For the rest of us in back in Ithaca we can at least take advantage of Kevin Danaher's advise "The corporations will get your mama" Kevin is just touring the U.S. with this speech. He's the co-founder of Global Exchange in San Francisco, famous for helping people to re-discover their revolutionary spirit due to exposure trips to the U.S.-Mexican Border, to Chiapas, Cuba or Palestine. Global Exchange had been involved in Peoples' Global Action since Kevin attended the very first conference in Geneva in February 1998.
CONTACT:


icc99presse@gmx.de

.October 28th, 29th, 30th, 31st November 1st, 2nd, 3rd, 4th, 5th, 6th, 7th, 8th, 9th, 10th, 11th, 12th, 13th, 14th, 15th, 16th, 17th, 18th, 19th, 20th, 21st, 22nd, 23rd, 24th, 25th, 26th, 27th, 28th, 29th, 30th Global Action Day December 1st, 2nd, 3rd, 4th, 5th