Tuesday, November the 2nd.
A full day at Cornell University. Radio and Television interviews are arranged. Everybody warns us, Casey Stevens of the WHCU radio was a tough guy and wouldnt be very friendly to us. Casey did ask the Pat-Buchanan-Question arent you just advocating economic nationalism? Good ol protectionism, pure and simple? But it was half-hearted. Who the hell really believes that a group of foreigners, a group of foreigners of countries that are foreign for each other, from the north and from the south are only about such simple-minded nationalist solutions? In the end Casey admitted that hed interviewed the director of Jubilee 2000 http://www.j200usa.org two weeks ago, and had already changed his mind towards the WTO. If we made him a little more radical is unknown.
At noon on the campus of Cornell University: We hold a rally chanting slogans in seven languages
French, Kuna, English, Spanish, Hebrew, German and Hindi.

OMC organisme malade et corrumpu
Annaptuanaki Markimar NAE
Corporate greed, we say no, stop the WTO
El pueblo unido, nunca sera vencido
Hayavim Levatel Et Hotse Israel
Hoch die internationale Solidaritaet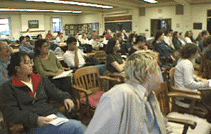 At one oclock a seminar on the question Whose Trade Organisation? WTO and reasons to resist followed by another one called Fight for global justice, focusing on globalization and racial exclusion. How multinational corporations affect communities of color, This question got answers by Ibe, Taira, Sanjay and Guido. Joy explains why we are on our way to Seattle, and Dennis could hardly stop giving examples of successful actions that took place. This event was prepared by ALANA, a students board of Africans, Latin Americans, Asians and Native Americans. Given the short period of time, the discussion didnt quite get round to addressing directly the links between the struggles of indigenous people in their regions and people of color in a mixed (and racist) society such as the U.S. But therell be plenty of time to think about, and act on, this over the next couple of weeks.
RESISTANCE is the name of the hairdressers just behind our downtown rally, where Raj uses all his effort and his pedagogical skills in order to explain how the WTOs own claims to legitimacy are flawed. Visit the WTOs website and see if you cant unpick the Ten Benefits of the World Trading system. http://www.wto.org/wto/10ben/10ben00.htm The original text from Rajs speech is available here to give you a hand.
The evening saw a Potluck meeting at Southside Community Center, with a chance for the caravan to meet local activists and talk about what they have in common.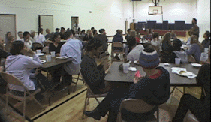 We meet working people and the farming community, we get to know about the Ithaca Hours local currency, which local residents use to keep cash in the community - http://www.lightlink.com/hours/ithacahours/. We also hear about the new progressive radio station WEOS http://www.hws.edu/~weos/, and especially about the Friendship Donations Network http://www.redcrosscortland.baka.com/webpages2/ir/2r109cfc.htm, who collect food of the supermarket to give it to poor people like us (thanks for the Bagels, gang!).
And in the evening, of course, a Fiesta! With Salsa! "If I can't dance I don't want to be part of your revolution" said Emma Goldman. This night indeed all we have to do make this world a better place is dancing We attend a fund-raising party for School of the Americas Watch, http://www.soaw.org, who are trying to shut down the School of the Americas in Fort Benning, GA. And you don't have to be Latin American to be a party animal witness Sanjay, doing the Salsa, and doing the Salsa, and doing the Salsa...
CONTACT:


icc99presse@gmx.de

.October 28th, 29th, 30th, 31st November 1st, 2nd, 3rd, 4th, 5th, 6th, 7th, 8th, 9th, 10th, 11th, 12th, 13th, 14th, 15th, 16th, 17th, 18th, 19th, 20th, 21st, 22nd, 23rd, 24th, 25th, 26th, 27th, 28th, 29th, 30th Global Action Day December 1st, 2nd, 3rd, 4th, 5th