We get a great good buy by the people in Boston, and take off with our bus. Then: Heading for Western Massachussets. The first day on the bus. Writing and reading turns out to be difficult, since the bus bumps and twists and splashes a great deal. The Limousine is following us, and together this turns heads wherever we go, as small as we are.

It takes two hours until our bus breaks down for the first time. Its not the end of the world we grind to a halt in the middle of a forest in the full beauty of a New England fall. Not that those working on the engine get a chance to see it. Meanwhile several cars stop, offering help. "I've seen the spraypaint on your bus when I passed by", says one woman, while her husband is waiting in the car. "I took the first exit to turn and to see, if I could help you". Another woman, about thirty, already knows who she is dealing with: "Are you going to Amherst? I'm planning to go there tonight. Can I help you?" Finally we agree in the offer to take some of us in a car, so that at least somebody will show up in time. The bus starts as well, and besides of one more short break down it makes its way.
But we're way too late, when we arrive in the Quaker's Friendship House that is hosting us. So we miss the Street Theater with the Corpulent Corporate Queen, that had been going on in the church in Amherst. But we have an inspiring evening on the WTO, including Ward, whom we already met in New York, and who showed up again. And with Jean, who lives in Amherst and who had been on the very first PGA in Geneva in February 1998. She gives an overview about the possibilities (and the importance) of getting involved against the WTO. At 9 o'clock we are supposed to be able to experience the horrors of globalization in the form of managers after they died of Karoshi,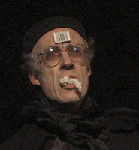 the manager-death, or in the form of extinct plants. Well, all these beings and non-beings showed up, but still we had a good time with dancing and live-music.
CONTACT:


icc99presse@gmx.de

.October 28th, 29th, 30th, 31st November 1st, 2nd, 3rd, 4th, 5th, 6th, 7th, 8th, 9th, 10th, 11th, 12th, 13th, 14th, 15th, 16th, 17th, 18th, 19th, 20th, 21st, 22nd, 23rd, 24th, 25th, 26th, 27th, 28th, 29th, 30th Global Action Day December 1st, 2nd, 3rd, 4th, 5th