Originally the day after Thanksgiving is the big-shopping-day in the U.S., so the streets are crowded. The shops use this for a parade, not made by individuals, but by shops of any kinds in order to advertise in this way. So you see lots of huge and living sweets or enormous cell phones walking around. Only one group is pretty different this year: The radical cheerleaders joined the parade, just behind the mayors car. Most people react positively, and especially the next generation is going to be very radical, because all these kids grap our RESIST-THE-WTO-Flyers.
Unfortunately our bus has to stay behind, it didn't make it through the police blockadings. And we ourselves have not been practicing how to be radical AND a cheerleader. So instead we walk behind them, and form a human colorful chain.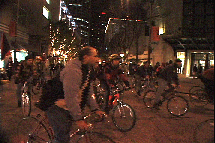 Critical Mass is US-american for a bike demonstration, and for blockading the streets. And in future it'll also be the name for entering the Washington State Convention Center with bikes, because this is what people do today. A bunch of bikes have been waiting in front of the DAN-Convergence-Center, and some of us just grap one and join the Critical Mass, and others, who are not lucky enough to get one, join it as well, but have to run.
CONTACT:


icc99presse@gmx.de

.October 28th, 29th, 30th, 31st November 1st, 2nd, 3rd, 4th, 5th, 6th, 7th, 8th, 9th, 10th, 11th, 12th, 13th, 14th, 15th, 16th, 17th, 18th, 19th, 20th, 21st, 22nd, 23rd, 24th, 25th, 26th, 27th, 28th, 29th, 30th Global Action Day December 1st, 2nd, 3rd, 4th, 5th