We leave Ithaca finally and successfully on Friday, as early as four o'clock in the morning.
On the road you learn so much about life, such as "Happiness is a clean car", and "McDonalds: 99 Billion Meals Served" and "You won't be our customer. You'll be our friend."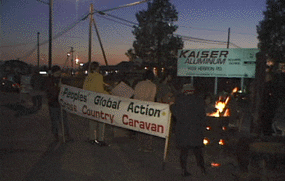 After fetching Asif from Oberlin, we meet the workers of Kaiser Aluminum picketing in Newark, Ohio. For more than a year, since Sep. 13th 1998, they are on strike, more than 700 workers at this plant, and all five plants together they're 3100. The chemical corporation wants to contract them out, with the result of lower salaries and lower safety standards. The scab-workers they employed in between have twice as much accidents than they had before.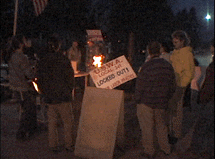 Warm coffee and a hot fire is necessary against the first cold of the starting wintertime. But the workers are there, a small group of about eight, but always: 24 hours a day, 365 days a year. The negotiations go on, but nothing has moved in all this time. So the workers will have to stay there for some more time. And every time a car passes by, you hear them from far away: "SCAB!".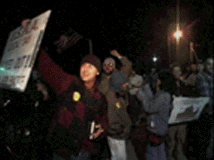 Interview with with locked out steelworker Dan Daubenmire will follow as audio.
CONTACT:


icc99presse@gmx.de

.October 28th, 29th, 30th, 31st November 1st, 2nd, 3rd, 4th, 5th, 6th, 7th, 8th, 9th, 10th, 11th, 12th, 13th, 14th, 15th, 16th, 17th, 18th, 19th, 20th, 21st, 22nd, 23rd, 24th, 25th, 26th, 27th, 28th, 29th, 30th Global Action Day December 1st, 2nd, 3rd, 4th, 5th