archives of global protests
Silver-Pink March

[II]

When the red march reached our place and took over our blockade of the main south access we could continue our march to complete the blockade. Some of us did find out a quite weak point where has been no riot police but only a ligne of "ordinary" Police. So we went to this place. Here we've been such closed to the Congress Center that WB and IMF delegates could see us — we saw them watching us from the windows... Among of us has been a small "black block" who tried to run the police ligne. But then ... (WB/ IMF delegates has been eye-witnesses of anything what happened now)

... police fired back massive with water canon and "bang bang" munition — this is another sort of teargas, no CS gas, a bit "less harmfull", but harmfull enough (fortune for me: I didn't smell the gas or get a shower). We've been urged to withdraw.

(read here another report about this situation)

Intrepid people continued to dance samba in front of police a few meters back...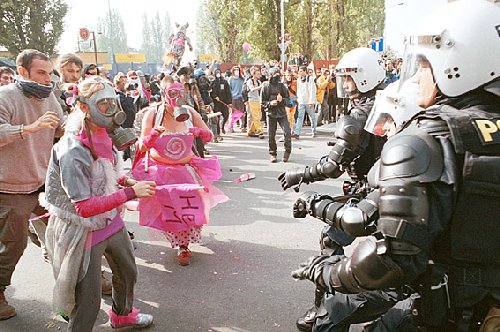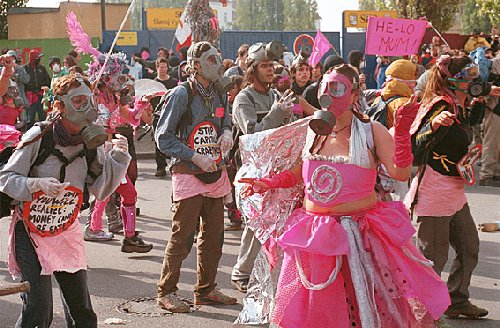 Later on another weak point was found at the north site of the congress center closed to the hotel for delegates where we tried to access again - with a bit more success. Pictures from this will follow soon. But now you can continue to see pictures from the
Blue March