english
2004:

gender reader – Part I | Part II | Part III (pga conference belgrade, july 2004)
2003:
From Heroic Legends to Everyday Questions (Ariane Brenssell, Nov. 02/ Apr. 03)
Patriarchy and Globalization (April 2003)
gender minutes from Winter Meeting (Dijon, March 2003)
Gender Working Group (Leiden, September 2002)
2002: How will the FTAA impact women? (August 2002)
castellano
2003: Peticion de que cese la campaña de cartas de protesta por Amina Lawal (2/5/2003)
Violencia contra mujeres será crimen de lesa humanidad (Abril de 2003)
Sudáfrica. "legitima" hij@s de dos lesbianas (28/3/2003)
2002: ¿Como afectara el ALCA a la mujer? (Agosto de 2002)
Neoliberalismo y Mujeres Indigenas (Agosto de 2002)
2001: Declaración de Mujeres Cochabamba 2001
Resumen de Mesa de Genero en Cochabamba 1991
Ni Hombres Ni Mujeres, Sino Todo Lo Contrario (21 de Mayo - 1 de Junio de 2000)
Convoca de Accion por Colombia (Febrero de 2001)
deutsch
2003: Frauen stoppt GATS Kongreß in Köln, Mai 2003
2002: Das GATS hat ein Geschlecht Marianne Hochuli
Von Heroen-Sagen zu Alltagsfragen -
Die globalisierungskritische Bewegung braucht anti-patriarchale Perspektiven (Ariane Brenssell, Nov. 2002)
Konzeptuelle Blindstellen. Schwierigkeiten feministischer Globalisierungskritik (Stefanie Kron, Nov. 2002)
1999: Globalisierung und Gender (Susanne Frank, Jungle World, 16.6.1999)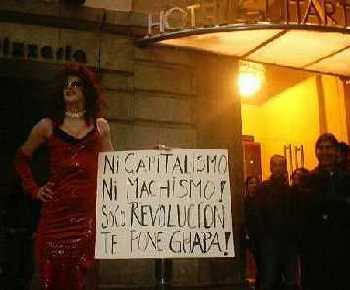 links - enlaces
more coming soon...