Second Update from the World Social Forum
Mandisa Mbali
www.nu.ac.za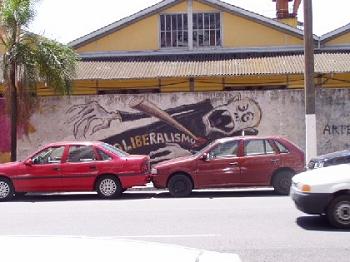 Yesterday afternoon's demonstration to open the Forum was absolutely huge- easily the biggest demonstration either of us has ever been to. It was quite moving to samba with so many civil society groups opposing corporate globalisation, neoliberalism and imperialism. We've attached some photos we took of the demonstration which show how large and diverse it was. In fact it was so big that we found it impossible to find other African activists, a hundred of whom marched at the front and apparently 'stole the show' with their chants and black African Social Forum ponchos.
Due to our non-existent Portuguese language proficiency it was impossible to understand many of the banners, placards and chants. A few which were easy to understand were celebrating the Iraqi and Palestinian resistance. The largest recognisable groupings (to non-Portuguese speakers like ourselves) were political parties (PST) groups like the MST (Brazil's Landless People's Movement) and various Union, Environmental, Gay Lesbian Bisexual and Transexual groups. We were sad to find only one AIDS-related placard and banner from a local AIDS support NGO and saw none highlighting the global AIDS crisis in a political sense. For instance, we were sad to find none highlighting the fact that the Global Fund to Fight AIDS TB and Malaria is almost bankrupt and can't fund another round of proposals, or the threat that new trade negotiations may present to availability of cheaper generic AIDS drugs (as you all know matters dear to our hearts as AIDS activists).
Today we went to hear Lula speak as part of a panel on eradicating global poverty. We couldn't obtain a translation of his speech and will continue to ask around for a synopsis from someone bilingual who was there. We did notice the splits in the Brazilian left's assessment of Lula's rule (see yesterday's update) which we encountered earlier in our trip. The MST was noisily demonstrating outside the venue during Lula's speech and some activists were attempting to bend the metal wire between them and the police outside the venue. Inside, at least a fifth of the audience was booing and giving Lula thumbs down signs. We also saw banners saying "Another world is not possible with Lula" (see pictures attached).
We then went in search of an African Social Forum meeting entitled "the Flame of Africa" which turned out to either have changed venues or been cancelled (the language barrier made it difficult to ascertain which was the case). We caught up with African and South African activists at a seminar debating disagreements in the global debt movement. African activists argued for unequivocal debt cancellation, whereas European activists argued for arbitration on the debt and a full audit of the debt (trying to assess which debts were legitimate and which were illegitimate). However, as South African activist MP Giyose pointed out this could lead to rich countries being the referee and a player in the debt cancellation process: an unlevel playing field where further unfair conditionalities could be imposed. As at the Africa Social Forum meeting in December these debates were made all the more pressing due to the fact that G8 countries are discussing various proposals for debt cancellation. While the US government apparently wants the IMF and World Bank to fund debt cancellation, the UK favours selling gold (which could impact on the gold price, with implications for South Africa as a gold producing country). The US NGO 50 Years is Enough (www.50years.org) handed us an excellent newsletter outlining the full implications of each proposal, which is we will bring home with us and place in our resource room.
We will be off to various activist meetings tonight, which we will update you all on in tomorrow's update.
Kind Regards
Mandisa in Porto Alegre
Mandisa Mbali
Research Fellow
Centre for Civil Society
School of Development Studies
University of KwaZulu-Natal
Durban 4041
Ph: +27 31 260 1412
Fax: +27 31 260 2502
E-mail: mbalim1

ukzn.ac.za
Website: www.ukzn.ac.za/ccs
wsf 2005 – wsf – www.agp.org (archives) | www.all4all.org