archives of global protests - archives des protestations mondiales - archivos de los protestos globales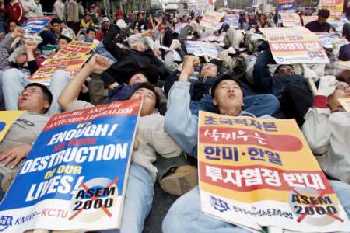 SEOUL, South Korea, Oct 20 (AP) - Riot police battled stone-throwing protesters who wielded wooden sticks and shouted anti-globalization slogans amid demonstrations Friday during a gathering of Asian and European leaders.
Some 400 protesters fought running street battles with about 1,000 police armed with yard-long batons who were blocking their march.
At least three protesters were seen taken to hospital with injuries to the head and face. One protester was taken away in a police car.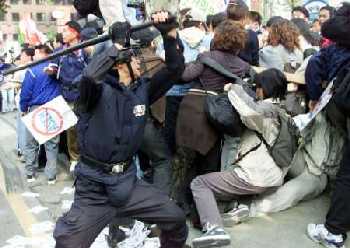 The protesters were among 3,000 labor, environmental and human rights activists who rallied at a major intersection to oppose the biennial summit of the Asia-Europe Meeting, or ASEM, which brought together 25 leaders of Asian and European Union leaders to discuss closer cooperation between their regions.
Activists expected the Seoul meeting to strengthen economic globalization, which they claim would restrict workers' rights and widen the gap between the rich and poor nations.
Anti-globalization protests disrupted the World Trade Organization meeting in Seattle last year. Violent demonstrations also marred last month's International Monetary Fund and World Bank meetings in Prague, the Czech Republic.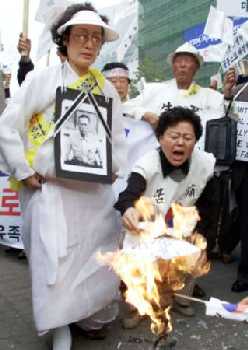 Organizers said they planned a larger demonstration later Friday expected to draw 20,000 people.
Earlier in the day, police stopped a dozen activists from marching to the convention center where the summit was held.
"Is this a country which has received a Nobel prize?" the protesters shouted as they were aggressively pushed away by riot police, armed with helmets, shields and meter-long batons.
South Korean President Kim Dae-jung, who received the Nobel Peace Prize last week for his policy of reaching out to North Korea, is the host of the third biennial summit seeking ways of strengthening political and economic cooperation.
When stopped by police yards from the convention center, the labor, religious, environmental and human rights activists unfurled two large placards which read: "No to Neoliberal Globalization" and "No to Structural Adjustment Program." "Neoliberal" refers to the free market economic policies adopted by many of the countries in the region.
"ASEM pursues neoliberal globalization, which is destroying the livelihood of workers, ecology and human rights," the protesters said in a statement.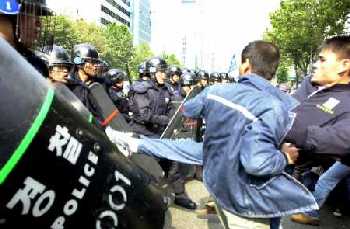 Authorities deployed 30,000 riot and plainclothes police in Seoul to safeguard the summit. Anti-terrorism police squads were seen patrolling around the convention center and hotels where the summit leaders were staying.
Police also expected South Korean followers of the Falun Gong spiritual movement, which has been the target of a heavy crackdown by the Chinese government, to stage a protest during the summit due to the presence of Chinese Prime Minister Zhu Rongji.
---
Thousands of protestors slam Asia-Europe summit
SEOUL, Oct 19, 2000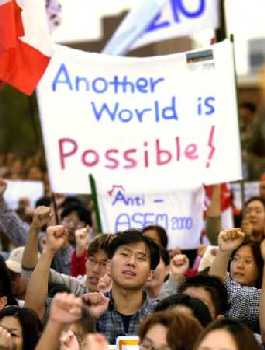 Thousands of protestors staged a boisterous anti-globalization rally Thursday as Asian and European leaders gathered in Seoul for a cross-continent summit.
"No globalization," chanted some 4,000 students, labor leaders and civil rights activists at Soongsil University campus in southern Seoul on the eve of the third Asia-Europe Meeting (ASEM).
The evening rally drew some 100 foreign activists taking part in a forum of nongovernment organizations (NGOs) held to coincide with the summit on Friday and Saturday.
Tens of thousands of police, backed by helicopters and armoured riot vehicles, have been deployed throughout Seoul to stop protests. But no violence was reported.
The protestors punched the air, surrounding a podium decorated with a banner reading "We Oppose Neo-liberalization and Globalization!" and a large picture depicting an angry slogan-chanting worker.
Students and union activists held up placards blasting ASEM for promoting a US-led globalization movement and vowed to lead a protest march on Friday, which will be kept several kilometers from the ASEM convention center.
The march will be headed by the Korean Confederation of Trade Unions (KCTU), a militant union group which has opposed sweeping economic reforms since an economic crisis forced South Korea to accept a 58-billion-dollar bailout from the International Monetary Fund (IMF) in late 1997.
The protestors blasted the lending policies of international institutions such as the World Trade Organization (WTO) and the IMF for increasing the suffering of poor nations by imposing harsh repayment obligations.
"Globalization is a main cause of worsening labor conditions." read a statement distributed at the rally.
"Disband the international organizations soliciting neo-liberalism. Stop negotiations about free trade measures and block the WTO New Round."
South Korean pressure groups have pledged there will be no repeat of the violence that dogged the WTO conference last year in Seattle, and the World Bank/IMF meetings in Prague last month.
But organizers of ASEM, South Korea's biggest international event since the 1988 Olympics, are desperate to avoid violent clashes with protestors and are taking no chances with security.
From Thursday, riot police sealed off all public access to within two kilometers (1.2 miles) of the sprawling ASEM site.
A South Korean photographer reported seeing around 20 local student activists detained by police after trying to break through police lines. However police denied any arrests had been