Human Chain Around Asian Development Bank
Agence France Presse, may 8, 2000
Thousands Form Human Chain Around Asian Development Bank Meeting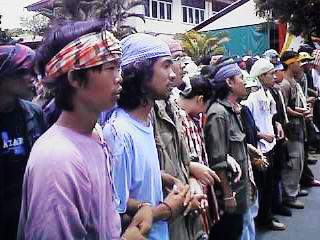 CHIANG MAI, Thailand, May 8 - Anti-capitalism protesters formed a human chain around a luxury hotel hosting the Asian Development Bank's annual meeting Monday, demanding a rethink of its policies in Thailand.
Several thousand protesters linked arms and chanted slogans watched by hundreds of riot police lined up around the building, as the final day of the conference got under way inside.
Protest leaders have threatened they will try to storm the hotel if their demands issued on Sunday for compensation for people affected by ADB projects and a reassessment of bank policies are not met.
"We will have lunch in the hotel," protesters shouted as they brandished banners sharply critical of the ADB and global finance.
Thai Finance Minister Tarrin Nimmanahaeminda, one of the top regional finance chiefs attending the talks, told reporters that although the meeting had whipped up protests, the bank was determined to help the poor.
"While there are clamors outside (we) are fully sensitive to the plight of the poor," he said, adding that the bank was "fully cognizant" of the fact that the benefits of globalization must be shared equally.
Hundreds of protesters camped out outside the hotel overnight after an angry day of demonstrations on Sunday when a mob tore through police lines and massed 10 meters (yards) from the hotel.
Activists, many wearing brightly colored headbands and carrying flags and banners, belonged to 38 non-governmental organizations and student organizations, organizers said.
Their numbers were swelled by poor farmers from around Chiang Mai, a northern city in Thailand's agricultural heartland, plus activists opposed to Myanmar's military junta (Burma) and environmental campaigners.
In a letter to the bank's governors, protesters warned their demands should be met to avoid more violence.
"If the ADB continues to refuse and respond to these issues and demands in a meaningful and sincere way, we are concerned it will increase the likelihood of confrontation," the letter said.
"You have a legal and moral responsibility to respond, you have an opportunity to do so now, and we urge you not to miss it."
Demonstrators claim that ADB policies have exacerbated poverty rather than loosened its grip on Asia — which is home to 70 percent of the world's poor.
The protest followed clashes between police and demonstrators on Saturday when a crowd of 5,000 activists broke through a police line outside a conference center where opening ceremonies took place.
It was the latest in a string of demonstrations at the perceived iniquities of global capitalism which have seen protests at the World Trade Organization (WTO) talks in Seattle last year and the World Economic Forum in Davos, Switzerland.
The annual meeting is due to wrap up later Monday, with speeches by leading officials and a series of press conferences, expected to underline the central message of the conference — that the ADB has rededicated itself to the fight against poverty.
Published on Monday, May 8, 2000 by Agence France-Presse
---