The whole aspect of state control for asylum seekers and migrants in Germany ist that of the state rendering them illegal at all times with restriction laws, all in the name of control.
Control is police insecurity and not state security for foreigners in Germany. This makes being a foreigner in Germany is like a crime to the German society.
Asylum seekers and migrants register everyday at their camps becoming open prisoners in Germany. The introduction of Asyl Card instead of Green Card for refugees are common examples of the German state control policies and discrimination against the asylum seekers and the migrants living in Germany. The State Human Rights abuses for Asylum seekers are crimes against human dignity, for Asylum is a human Right.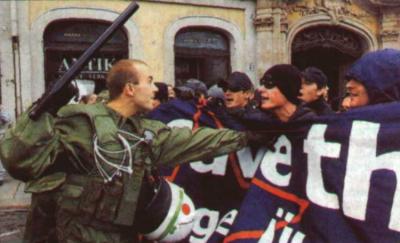 We demand abolishment of all the "racist" foreigner's laws in Germany for they are based on body differences and nationality e.g. the Residenzpflicht law for asylum seekers and deportation praxis.
We demand an open society without control für all, for control is a strategic system for the elimination of foreigners in Germany e.g. asylum seekers when victims of Fascists and Neo-Nazi attacks are unable to declare such attacks for fear being criminalised by the police, because they are out of their local districts (Landkreis). This often promote Fascists and Neo-Nazi violence and human right abuses that we must stop.
We demand immigration without fortress Europe with free movement for all humans in Germany without deportation.
We should organise ourselves against the abuse of free movement "Residenzpflicht" for asylum seekers in Germany and to stop deportation for all migrants, for movement restriction and deportation is racism.
We call for support against the deportation of our following activists who are made to live illegal till now because of the German State control praxis.
Alain George Dongmo and Eric Nana to Cameroon,
Akubuo Chukudi, Alabi Adebayo to Nigeria
Tijani Sow to Guinea.
We demand support for the refugees civil disobidience protest against the Residenzpflichtgesetz and the violation trial of Cornelius Yufanyi in the court of Worbis (Amtsgericht) Thueringen including the threat of deportation for José Marie Jones because of Residenzpflichtgesetz violation.