At first sight the racist surveillance of refugees seems to be rather harmless: If a German citizen wants to have a telephone from the Telekom s/he can have one without being asked for his/her papers. If somebody is seen as a foreigner or refugee by their looks, s/he needs prove his/her identity. Also, if identity card or passport of a German citizen expire their bank does not care. Passports of foreigners and their status in Germany, however, are being checked.
Other examples of keeping refugees under surveillance are a lot nastier. Since refugees are not allowed to leave a designated area (usually their "Landkreis") while their application for asylum is pending they have to fear being checked at places like borders, trains and train stations at any time. Another example of the racist surveillance is the DNA analysis. If a recognised refugee or a person who according to the UN Refugee Convention of 1951 is permitted to live in Germany wants his/her family members, usually wife and kids, to come to Germany too they often have to have their saliva tested. This is done for the authorities to be certain that all people involved are members of the same family.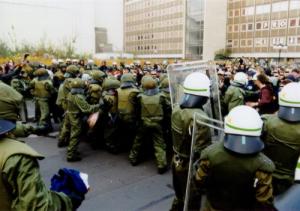 The racist surveillance of refugees is part of their everyday life: In many refugee hostels asylum seekers, i.e. those who live in them, have to show their papers on entry. Visitors have to personally introduce themselves to the security personnel or the head of the hostel and leave their identity card with either. "Strangers" are not allowed to stay overnight. Those rules are allegedly only for the refugees´ own safety. Also, the high barbed wire fences around the hostels are said to be for their personal safety. Not to forget the security personnel. A feeling of safety among the refugees does not come up, however. On the contrary: Refugees tend to feel unsafe. And the fences do not stop racist attacks on the refugees in hostels. And then there is this other enemy: the police. How often have they stormed hostels to arrest people who were about to be deported? They tend to come at night because that is when the whole family is most likely to be around...
This gives refugees the feeling of living in an environment where they are efficiently kept under surveillance and the authorities can get hold of them easily at all times. And that is exactly what this is all about. It has long been known that giving cash to refugees instead of handing out food parcels and to house them in flats around town instead of in hostels is a lot cheaper. The goal is to hinder refugees integrating, to keep them under surveillance and under tight control. Surveillance and Control as efficient as possible.