archives of global protests
Campaign and Action of Bangladeshi Garment Workers for Weekly Holiday
23-3-2000
GARMENT WORKERS ARE HUMAN BEING
THEY TOO HAVE FEELINGS(SOUL)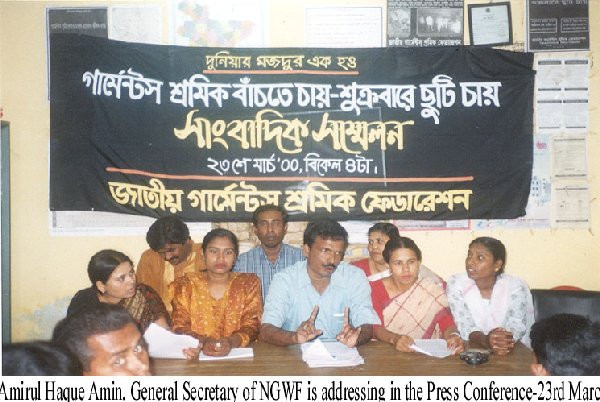 Garments Workers Want to Live
We Demand Weekly Holiday On Every Friday
Bangladeshi garments workers have started campaign and action for the implementation of weekly holiday in title GARMENT WORKERS WANT TO LIVE - WE DEMAND WEEKLY HOLIDAY ON EVERY FRIDAY.National Garments Workers Federation have announched this program through a press conference on 23 rd March at 4 p. m. in its central office. On behalf of the federation Amirul Haque Amin , general secretary of NGWF declared the programs.
Now in Bangladesh 1.5 million garment workers are working in 2700 garments. 80% are women .Garments cover 76% of the total export of the country and it is the highest profitable industry. But the condition of the workers is worst. Till now minimum wage of the garment workers is tk 800 ($ 16 ) and avarage wage for the operator is tk 1350 ($ 28 ). Workers work 14 to 16 hours per day and 7 days in a week. They are faching thousands of problems ass low wage, irregularities in payment, Forcefull overtime, bad working invernment, termination etc.
Weekly holiday is the legal right of the garment workers according to the labour law, I.L.O convention , Human rights declaration even the country,s contitution. But the garments owners are not folloing the law. In absence of weekly holiday the workers are in inhuman condition. They are becoming isolated from their parents, children, families and societies. On the other hand day by day they becominy sick and going to death. They are faching serious tipe of deseases .The condition of the women workers are in more danger. They are not able to give at least one day for their family, children and husband. So a countable women are Faching devorce by their husband.
National Garments Workers Federation had started the campaign for the weekly holiday in 1995. As a result of this campaign ,in 1997 BGMEA ( Bangladesh Garments Manufacturures and Exporters Association )had signed 4 points MOU including the weekly holiday with the Trade union organazations in this sector including the NGWF. But till now BGMEA did not implemented the 4 points MOU even the weekly holiday.
In this situation the NGWF have started the campaign and action. The action programs are follows :
Garment Workers Human Chain : 24 th March ,2000
Publicity Week : 25 th to 31 st march
Weekly Holiday Demand Day : 31 st March
Next program will be declare on 31 st march.
Garment Workers of Bangladesh and the NGWF seeks suport and co-operation to implement this legal, basic, minimum and humanitarian demand of the Bangladeshi garments workers.
Dhaka, Bangladesh
23.03.2000