DAVOS-Soros Joins Criticism of Davos Protest Clampdown
Date: 1/29/01
By Adrian Croft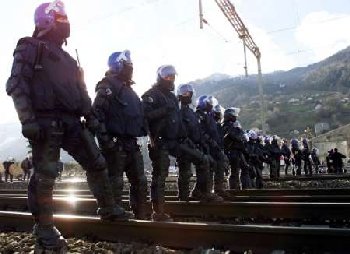 Police stopping the Train in Landquart
DAVOS, Switzerland (Reuters) - Billionaire financier George Soros, environmentalists and union leaders added their voices on Monday to a swelling chorus of criticism of police handling of protests against the World Economic Forum (news - web sites) summit.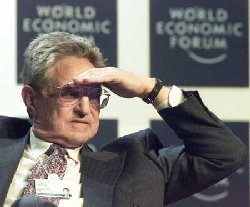 Swiss authorities mounted an unprecedented show of force at the weekend to thwart a demonstration by anti-globalization activists opposed to the annual gathering of top business and political leaders at the ritzy Swiss ski resort of Davos.
Police stopped many demonstrators from traveling to Davos on Saturday and officials turned back more than 100 suspected demonstrators at the Swiss border.
Hundreds of demonstrators who were turned back ran riot on Saturday evening in Zurich, where police fired rubber pellets, teargas and water cannon to disperse protesters who hurled stones at police, set fire to cars and smashed windows. About 100 demonstrators were detained and three police injured.
The Swiss protests are the latest in a series of sometimes violent protests against globalization that have become a feature of international meetings from Seattle to Prague.
Soros, speaking at a press conference at the World Economic Forum on Monday, said the Swiss authorities' "excessive precautions were a victory for those who wanted to disrupt Davos...The way it was handled was not a good one."
Banning the demonstration was probably a mistake, he said, although he said he was not so sure about that "as the demonstrators were bent on creating trouble."
Soros said he opposed the methods of the protesters but added: "I do think they have something to protest about. The global capital system creates a very uneven playing field."
Union Protest
Nine union leaders attending the forum said they had protested to WEF founder Klaus Schwab at "over-the-top policing that has kept away even peaceful protesters."
"We believe in the widest dialogue but what message does the forum send out when it is ringed by armed police, water cannons, security helicopters and wire barricades?" they said in a statement.
The union leaders include Bill Jordan, general secretary of the International Confederation of Free Trade Unions, John Sweeney, president of the U.S. AFL-CIO, and others from Australia, Zambia, Canada, India and Germany.
Noel Howell, a spokesman for the union leaders, said the forum had become gradually more inclusive over the last few years but they wanted to see the process go further. "We've got 12 months with the forum to work out a more inclusive basis for next year which would allow for peaceful protests and dialogue."
An alliance of environmental and human rights organizations which organized an alternative conference to the WEF in Davos pledged on Sunday to take legal action against Swiss authorities over their handling of the planned protest.
Swiss President Moritz Leuenberger has defended the authorities and Schwab has praised the police response.
The anti-WEF demonstrators accuse the business and political elite of meeting behind closed doors in Davos to plot a global future that increases the power of multinational corporations at the expense of ordinary people.
Organizers reject the accusations and have tried to broaden the scope of the meeting by inviting 36 grassroots organizations to take part this year.
(Additional reporting by David Crossland)

Copyright © 2001 Yahoo! Inc., and Reuters Limited.
---