CINCINNATI, OH
Scripps Howard WCPO TV (relayed ny John Zeh, OVIMC)
TABD Conference, Protests End
Reported by: Valerie Miller, WCPO TV 9 (Scripps Howard)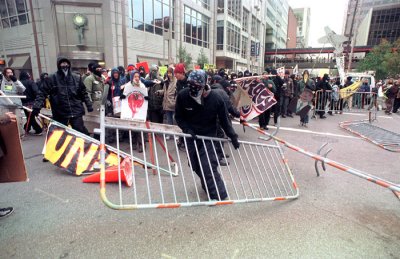 Demonstrators held rallies at Fountain Square and along other streets in downtown against the Trans-Atlantic Business Dialogue conference.
Protestors planning a peaceful demonstration found a police checkpoint at Fountain Square. Officers searched everyone.
The demonstrators were held behind barriers and police were everywhere.
Police arrested several protesters Saturday, and Cincinnati Mayor Charlie Luken said he was pleased with the police response.
The rally included a parade of pigs labeled for corporations. Protestors said business leaders gathering in downtown for the TABD conference are responsible for weak regulations.
"We lose environmental protection, worker safety protection, child protection," said Audrey Mayer of Covington.
From Fountain Square, protestors wanted to form a single file picket to drop off the pigs at several street corners. Police refused.
The group wanted to move around town and we weren't prepared for that," said Police Chief Tom Streicher. "We told them 'No'. If we are not prepared for it and there are no permits for it, it becomes a significant disruption in town."
The procession moved up Vine Street to the Kroger building for the second planned demonstration.
Along the way police were visible at every corner. Officers followed on foot and on horseback. After yesterday's few outbursts of vandalism and violence, police were keeping tight control.
The protestors took a seat outside Kroger headquarters. When the final pig was put in place outside the Chiquita building, the peaceful protest was over. The crowd was not ready to leave.
Officers arrested a total of 47 people Saturday evening for disorderly conduct after they refused to clear downtown streets. That brings the total of arrests this weekend to 56.
Police started taking people into custody a few hours after the group's 3-p.m. demonstration permit expired.
The protestors said they simply want to call attention to corporations' treatment of workers.
"We're fighting for everyone in the world. We're fighting for justice. We're fighting for peace," said one protestor. "They're so many people in the world - they don't have anything to eat."
Police had to escorted members of the transatlantic business dialogue from the downtown conference site to a riverboat cruise in Covington.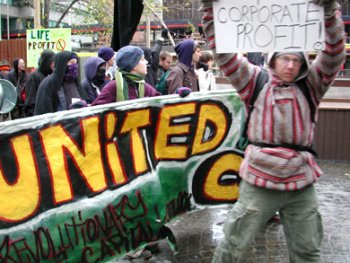 TABD Conference Wraps Up
While protesters took to the streets, inside the Omni the Trans-Atlantic Business Dialogue conference wrapped up.
The group of 120 CEO's and US and European government officials worked over the past two days to break down trade barriers across the Atlantic.
There was mention of the protestors during a news conference Saturday.
The US Commerce Deputy Secretary wanted the protestors to know that the TABD said it opens doors for American business owners to expand overseas.
"We have produced jobs. We've improved our technology, our ability to communicate with each other and lowered the decibel of our disputes," said US Commerce Deputy Secretary Robert Mallett. "That is what the TABD is meant to do."
A TABD report said trade between Europe and the US produces more than seven million jobs on both sides of the Atlantic.