TABD in Cincinnati, Nov. 16th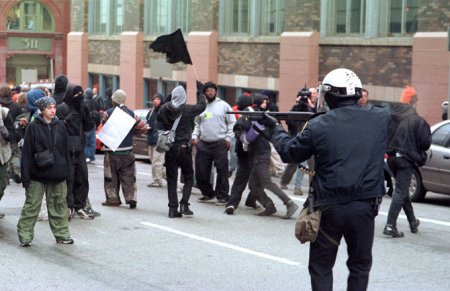 We hope to see you all in Cincinnati next month, where the public scrutiny will be put on yet another instrumental part of the corporate globalization agenda: the Transatlantic Business Dialogue (TABD). Check out www.tabd.org to see which CEOs are getting together in Cincinnati and ask yourself whose agenda they represent, and why they are getting unlimited access to the U.S. and European governments. Then make your travel arrangements to come and let YOUR voice be heard!
=====================================
Dracula Strategy:
Dragging TABD into the Light of Day
Citizen Summit on the Transatlantic Business Dialogue
CINCINNATI, NOVEMBER 16, 2000
TABD does not stand for Truly Appalling Backroom Deals, but it should. The Transatlantic Business Dialogue (TABD) is a coalition of U.S. and European CEOs. It is a key player in shaping the forward agenda for expansion of the World Trade Organization (WTO). Plus, it makes countless smaller demands of the governments that are geared toward removing "barriers to trade"-- you know those important worker protection, consumer safety, and environmental laws and regulations that guard the public health, protect us from unsafe products, and keep our air and water clean? The TABD will be meeting behind closed doors in Cincinnati, November 16-18, to issue its latest demands to representatives from of U.S. and European governments. Join us to learn more about the TABD and how it impacts your life!
PRESS CONFERENCE/RALLY
12:00 p.m. Fountain Square, 5th Street between Walnut and Main, downtown Cincinnati. Speakers from national and local labor and civil society organizations including: Public Citizen, Committee for a Humane Economy, Sierra Club, AFL-CIO, Farm Labor Organizing Committee and others. These organizations will kick-off three days of civil society actions and events around the meetings of the TABD.
TEACH-IN ON GLOBALIZATION AND THE TABD
7:00-10:00 pm Cathedral of St. Peter in Chains, Undercroft, 325 West 8th Street (at Plum), Cincinnati. Speakers to include, Lori Wallach, Director, Public Citizen's Global Trade Watch; Ron Blackwell, Director Corporate Affairs, AFL-CIO; Atherton Martin, Caribbean Banana Farmer from the Island of Dominica; Baldemar Velasquez, Farm Labor Organizing Committee; Dan Seligman, Director of Responsible Trade Program, Sierra Club; and many more!
Unlike TABD meetings, this event is free and open to the public!
Sponsors Include: Public Citizen's Global Trade Watch, Coalition for a Humane Economy, Sierra Club, Ministers Against Global Injustice (MAGI), Farm Labor Organizing Committee, Alliance for Democracy, International Forum on Globalization, Buckeye Forest Council, Friends of the Earth, Ohio Citizen Action, Intercommunity Justice and Peace Center
For more information, see www.tradewatch.org or contact:
Rachael Belz, Ohio Citizen Action, 513-221-2100
Alesha Daughtrey, Public Citizen, 202-454-5103