Trans Atlantic Business Dialogue Protests
Please let others know about TABD (their website is www.tabd.com) and the protest (website www.n16.org).
NOVEMBER 15TH, THE TRANSATLANTIC BUSINESS DIALOGUE COMES TO CINCINNATI!
100 OF THE WORLD'S TOP CEOs WILL CONVERGE
TO ADVISE THE WTO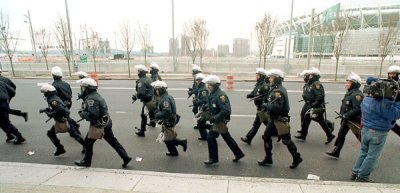 The TABD is coming to Cincinnati November 16-18. The Coalition for a Humane Economy CHE2000 is putting together one hell of a protest. If you are wondering, the TABD is the Transatlantic Business Dialogue. It is designed to coordinate the US and European trade agendas going into the WTO rounds. TABD works to make sure the policies and procedures of the WTO are in the interests of the US and Europe, and that favorable decisions are enacted.
They are considered, next to the WTO, the most influential economic group in the world. Their reason for existence: to liberalize trade and reduce and reduce all barriers to big business. The decisions made in Cincinnati in November will most likely be passed right through the next round of WTO talks.
Cincinnati is a small, very small, conservative town. Chiquita Banana's world headquarters are here (one of the worst human rights abusing corporations in the world) and for all you PETA members, Procter and Gamble's world headquarters are also here. Big business runs this city.
But it is easily rocked. Protests of 20 easily get news coverage here.
This is the time my brothers and sisters! We need to send a message, these corporations can't hide.
The nature of the protest is yet to be determined. We intend to make it ONE large action, not several, but with several facets.
If you want to look up the TABD check out www.tabd.com. It is their web site. You will see how closely connected they are to the WTO.
We'll be holding a major teach-in on the TABD and globalization at Antioch College the third weekend in October, which will feature training in nonviolent direct action and civil disobedience. We're working on a schedule now and will get it to interested people as soon as possible.
Paz,
Susan Knight
Greater Cincinnati Coalition for the Homeless
513-421-7803
susieknight@juno.com.
Thom