OKINAWA: Thousands protest against G8 summit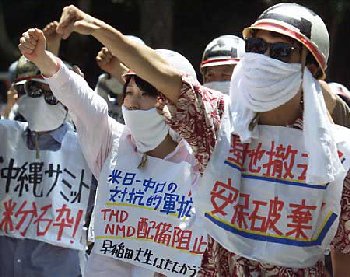 Green Left Weekly, Issue #413 July 26, 2000
http://www.greenleft.org.au/
Twenty thousand heavily armed police, six navy warships and a two-kilometre nautical exclusion zone may have allowed the world leaders, including United States President Bill Clinton, attending the G8 summit in Okinawa to rest easy, but it wasn't enough to prevent tens of thousands of people from making their voices heard.
Before and during the July 21-23 summit, Okinawans protested against the massive permanent US military presence on the southern Japanese island, women's rights advocates held an International Women's Summit to Redefine Security, anti-debt campaigners demanded the G8 countries fulfil their promises of debt relief for the world's poorest countries and Greenpeace sailed its Rainbow Warrior into the exclusion zone to protest at G8 logging policies.
The G8 comprises the world's largest industrialised powers: the US, Japan, France, Britain, Germany, Canada, Russia and Italy. Its discussions at the summit ranged from regional security issues, including US plans for a "National Missile Defence" scheme, to the stance to be taken on debt relief for the "least developed countries".
International debt relief campaign group Jubilee 2000 coordinated a worldwide "Net the Debt" day on July 21, which involved the sending of 200,000 email messages to G8 governments demanding that they speed up promised debt relief.
The G8 summit, however, came up with no new initiatives on debt, instead repeating its 1999 promise to provide $100 million in relief to 41 poor countries. After a year of promises, not one country has had its debt cancelled and only nine have been offered limited relief.
Jubilee 2000's UK director, Ann Pettifor, called the summit's inaction "an insult of historic proportions ... to the billion people who suffer from the consequences of debt".
The G8 summit has also sparked anger from Okinawans, who on July 20 formed a 27,000-strong human chain around the US's Kadena Air Force Base, demanding the withdrawal of the 26,000 US troops permanently stationed on the island.
"Fifty-five years ago Okinawa was the only place in Japan to suffer a land battle", said organiser Seishu Sakaihara, referring to the 200,000 killed during the 1945 Battle of Okinawa, the single most bloody episode of the Pacific War. "If we permit the bases to stay we are allowing war."
The US has defied all demands to withdraw, saying its military presence is necessary for the region's security.
The G8 leaders' summit was held at the luxury Busena Terrace Beach Resort, on a remote peninsula. The Japanese government spent US$750 million on the summit and two preparatory meetings of ministers, a sum that Jubilee 2000 estimates would have been enough to cancel the servicing of one year's debt from Guyana, Rwanda, Laos, Zambia, Nicaragua, Benin, Cambodia and Haiti.
BY SEAN HEALY