The battle starts in Nice
Date Thu, 7 Dec 2000 14:48:22
________________________________________________
A - I N F O S N E W S S E R V I C E
http://www.ainfos.ca/
________________________________________________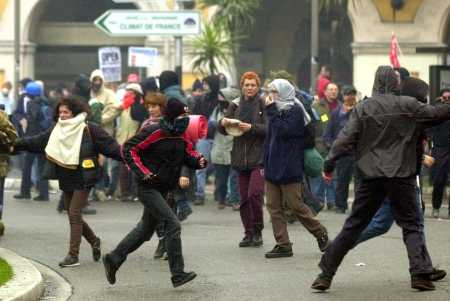 *************************************************
From Ainriail - the Irish Anarchist list
*************************************************
[A personal report from a Workers Solidarity Movement member, these reports are posted to the Ainriail list when first written]
The battle starts in Nice
Mainstream press sites and the wire services are carrying reports that battles have broken out between the protesters in Nice and the riot police guarding the European Summit. The British Guardian reports that "As the leaders arrived teargas filled the streets leading to the Acropolis convention centre and police fought battles with groups of protesters trying to scale steel road barriers". Meanwhile on the French border 'Fortress Europe' is again in operation with the French army denying entry to around 1,000 Italian protesters.
The European Summit in Nice is being attended by the leaders of all the EU governments. It aims to agree legislation which will undermine the rights of EU workers and create a common European army. It will also hand over various powers to the WTO.
Yesterday between 60 and 80,000 people marched in Nice against these policies with the majority of the marchers being Trade Unionists. Very little media coverage was given to these mass peaceful protests (in Britain or Ireland at least) although considerable coverage was been given to the summit itself. Many people will not know these protests took place. It appears there were sizeable numbers of anarchists on these demonstrations, the Euronews coverage showed the red & black banner of the Spanish anarcho-syndicalist CGT with large numbers behind it.
The plan was to try and blockade the Summit today in a similar fashion to the blockade of the WTO in Seattle and the successful shutting down of the World Bank/WTO in Prague. Presumably the attempts by the riot police to prevent this is what triggered the confrontations during which a near by bank was set on fire. A photo on the BBC web page shows a section of the demonstration being attacked with tear gas, again several anarchist flags from the Spanish CGT are visible.
The only coverage of the counter-summit I've seen has been some rather sneering comments by the Italian press. Once again in Nice an obedient press is demonstrating that it knows who feeds it. Once more we can expect to be told the demonstrators are simply against everything. Once more the mass demonstrations will be ignored and the legitimate attempts to actually shut down the summit will be portrayed as the actions of a mindless minority. In part to counteract this some 18 anarchist groups from 4 continents have been distributing a statement in Nice in four languages of why they are there. You can read this at http://flag.blackened.net/revolt/wsm/statements/nice2000.html
Tonight in Dublin there will be a solidarity demonstration with those protesting in Nice, please try and come along
Protest at the European Union Office
Molesworth Street, Dublin 2
Thursday December 7th at 5 pm
<-><-><-><-><-><-><-><-><-><-><-><-><-><-><-><-><->
From Irelands's Workers Solidarity Movement
http://more.at/anarchism
Read the International Anarchist Platform
and subscribe to the AP list
http://flag.blackened.net/revolt/platform.html
---