Protests Continue as Alternative Media Targeted in Montevideo
http://www.indymedia.org/archive/features/current#4586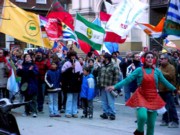 Since massive protests against the Uruguayan government decision to close some banks and to freeze some personal bank savings deposits, the corporate media in that nation has started a campaign against alternative media sources. On August 3, police raided (es) the community radio (es) station "El Quijote", which was located in a poor neighborhood of Montevideo. They shut down the station and took all equipment. Newspapers have published (es) articles accusing radio stations and even Uruguay Indymedia (es) of inciting looting at supermarkets during the protests.
Uruguayan President Batle managed to get a $1.5 billion (U.S.) loan from the IMF and reopened the banks (es). Protests against neoliberal policies continues, however, with reaction coming from everywhere. Students have started (es) a strike and occupied a university building [ audio ], while Pit-CNT (Central of Workers) union began a general strike and went into the streets protesting [ 1 | 2 ] against the loan and its conditions.
The Uruguay IMC is in need of donations of equipment and money.
---