http://story.news.yahoo.com/news?tmpl=story&u=/nm/20020801/wl_nm/economy_uruguay_dc_6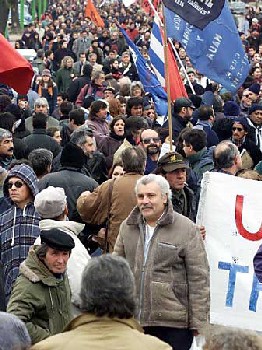 MONTEVIDEO, Uruguay (Reuters) - Thousands of Uruguayans staged a four-hour general strike on Thursday to demand wage increases and public works projects, as anemic banks remained shut in a financial crisis that triggered looting in one poor neighborhood.
Workers in most sectors except health, education and some bank employees walked off the job, shuttering this city of 1.5 million people, to protest failed policies to end a recession since 1999 that have left one in four unable to meet basic food needs or pay bills.
About 80 looters tore down metal shutters on three corner stores in a poor district northwest of the capital and took alcohol, shampoo and some food, witnesses told Reuters.
"This is the beginning of what will come," store owner Franco Di Leone said. One corner store near the Congress was looted on Wednesday. No injuries have been reported.
Uruguay has been rocked by a bank run, a dive in consumer spending and the ripple effects of Argentina's ongoing economic crisis. Most recently, concerns a leftist could win Brazil's presidency in October and push the regional giant to default on its $250 billion public debt have added to Uruguay's problems.
A United Nations ( news - web sites) agency said the tiny South American country's economy would shrink 5 percent this year while U.S. Treasury Secretary Paul O'Neill said Uruguay deserved support.
On Tuesday, Uruguay's government declared a bank holiday now extended through Friday, as bank withdrawals of pesos and dollars by nervous depositors accelerated. The government further exacerbated Uruguayans' fears by closing ATMs for a day and then limiting withdrawals to pesos.
"We don't want a deposits freeze like in Argentina. They will probably limit withdrawals given how badly the government has handled this crisis," said protester Alejandra Carro as she walked among thousands of chanting demonstrators from Congress to the presidential palace in windy, near-freezing weather.
Union leaders are due to meet later on Thursday with Economy Minister Alejandro Atchugarry, who took the post a week ago after a split in the coalition government forced his predecessor and the central bank president to step down.
Vice President Luis Hierro said on Thursday he hoped Congress would pass a bill backed by the International Monetary Fund ( news - web sites) that is designed to shore up the anemic banking system before banks open on Monday.
URUGUAYANS RAIL AGAINST POLICIES
"We want to know the IMF's conditions to solve this crisis," said union leader Jose Suarez, a member of Uruguay's largest labor movement umbrella group, PIT-CNT. "This crisis is not the workers' fault; it's the result of economic policies."
Uruguay was one of a handful of Latin American nations that enjoyed investment-grade status until earlier this year, when spillovers from Argentina's economic meltdown and financial woes in Brazil rocked its farm, banking and tourism-dependent economy and triggered a wave of credit-rating downgrades.
"There is a sense of urgency that things need to be done," IMF spokesman Tom Dawson said of Uruguay's growing crisis.
He declined comment on speculation the IMF would increase the amount of its aid to Uruguay or accelerate disbursements.
Argentines have long stashed money in banks in Uruguay as a safeguard against banking problems at home. But with a savings freeze on since December at home, many Argentine depositors emptied their Uruguayan accounts — where 33 percent of all savings have been withdrawn so far this year — at an accelerating pace.
The halt to most transactions pushed Uruguay's peso down 14 percent Tuesday. The currency has recovered around 10 percent since Tuesday to 27 to the dollar at exchange houses. It has lost half its value in dollar terms since the government allowed it to float freely in June.
One union demand is that the government approve a pay raise to compensate for the fall in value of the peso, which has raised the cost of basic imported goods like wheat and sugar.
Another IMF-backed bill to slash public spending, due to be debated by Congress in the coming weeks, has been the focus of anger for the 3 million people of this Ohio-sized nation.
Unemployment is at a 30-year high, with 15.6 percent of the work force out of a job. Talk of spending cuts in a country that has one of South America's largest public sectors and a minimum monthly wage equal to $50 are drawing sharp criticism.
"People here don't earn much, the economy is in terrible shape and the peso is really low, so the government should not be talking about more austerity," said a mother of four.
Unions also planned to press for public works projects for the construction sector, PIT-CNT official Juan Castillo said.
Labor leaders recognize that a rescue plan for banks has to be in place before their demands can be pressed, he added.
Two rating agencies on Wednesday downgraded banks operating in Uruguay to reflect the growing possibilities that deposit restrictions could be put in place system-wide.
The government said it ordered Tuesday's bank holiday because of the central bank's decision to suspend operations of Banco Montevideo Caja Obrera, which was held by Argentina-based Grupo Velox before the government seized control. Paraguay's Banco Aleman, also controlled by Argentina's Grupo Velox, was also hit by a fall in deposits.
Fitch on Tuesday cut its sovereign rating for Uruguay, saying reserves were at "precarious" levels. The Central Bank's international reserves have fallen 79 percent since January.