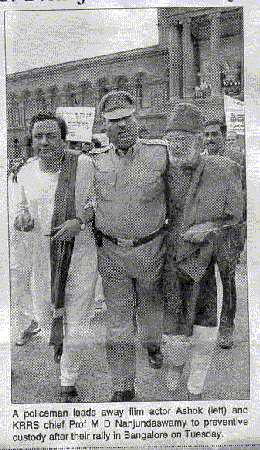 About 50 activists, under the banner of the Forum for Social Justice in Education, led by forum coordinator and Karanataka Rajya Ryota Sangha(KRRS) chief Prof.M.D.Nanjundaswamy, demanded that all eucational institutions in the State be nationalised in the interest of students.
The forum on Tuesday protested against the admission process and fee structure being allowed by the Government and the High Court through the Common Entrance Test (CET) Cell. They demanded that social justice should be assured in all technical and medical courses by protecting the reservations for various backward groups.
Activists stage a dharana in front of the High Court and were later taken into custody by the Cubbon Park police for violating the ban orders under section 144 of the Criminal Procedure Code in the Vidhanasoudha area. The Legislature session is currently on.
Urging that these institutions which ejoy Government support, facilities and infrastructure and charity form the general public should be barred from taking donations, the protestors sid, « they should be brought under the control of the Government »
They also demanded that reservation should be set aside for students from rural areas to set right the urban-rural imbalance.
« The CET has made education a marketable commodity. This is against the Constitution which regards education as a fundamental right that all must have equal access to, » said Nanjundaswamy.
He added that the fact that regional imbalances or urban-rural imbalances or class imbalances are not being considered goes against the basic concept of social justice. « Nationalisation is one solution to the issue », he said.
Former legislator and advocate Ms.Pramila Nesargi, Gandhian leader Satyavrata eminent writers Dr.P.V.Narayana, and Dr. Chandrashekhar Patil, Cine Star Ashok and others who took part in the agitation were released after a few hours of preventive arrest, Cubbon Park police,said.