2005-07-11
No Se Vende! Hondurans refuse to sell out
Jen Sauer , Jul 11, 2005 @ 23:09 GMT indymedia.us
Bloque Popular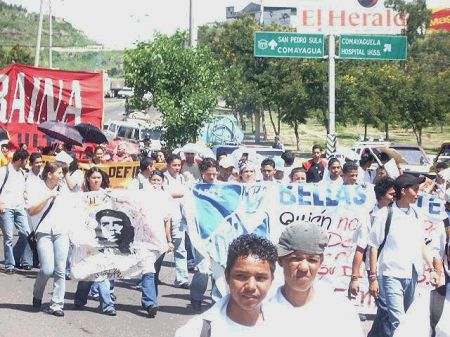 Students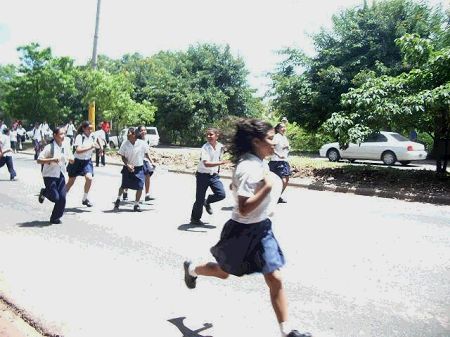 Graffitti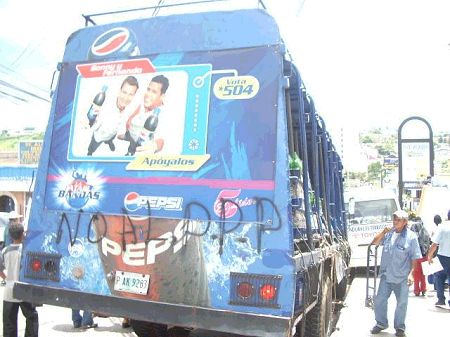 Costa Rican and Salvadorian activists, gathered to let the presidents of the Central American Presidential Summit know that they haven't changed their minds about their total opposition to CAFTA, (TLC in Spanish) PPP, and Plan Columbia. The Bloque Popular of Honduras, a network of groups fighting against CAFTA, including youth, groups against military repression, campesinos, indigeneas, and women has been organizing for years to stop CAFTA. Honduras, a country with 7 out of 10 in poverty, has lost thousands of jobs to US rice, while thousands of maquiladoras have left a mounting list of labor abuses including union busting and fleeing the country without worker compensation. The Senate just passed CAFTA, now the US House has until July 28th to stop it. If it's not too late, those from the US can still tell your US representative not to vote for CAFTA More about Latin American struggles on IMC
On June 29th, 5,000 plus Hondurans, including Costa Rican and Salvadorian activists, gathered to let the presidents of the Central American Presidential Summit know that they haven't changed their minds about their total opposition to CAFTA (TLC in Spanish), PPP, and Plan Columbia. "These are the corrupt presidents of Central America...here is the popular movement, we will continue in the communities, without police, nor military, nor corruption, lets do this today, basta ya!", from one of the many voices during the demonstration. The presidents of Alvaro Uribe of Columbia, Enrique Bolaños of Nicaragua, Vicente Fox of Mexico, Leonel Fernandez of the Dominican Republic, Prime Minister of Belize, Said Musa, Ricardo Maduro of Honduras, Abel Pacheco of Costa Rica and other officials met to "celebrate" the inauguration of a PPP highway and discuss free trade in the Americas. Three major points of discussion discussed during the June 29th and 30th Summit were
1. The Integration of Central America into "Plan Columbia", a neo-liberal plan combined with political, economic, and military intervention whith will extend PPP to Columbia. "The program aims to beef up military and police capabilities from Bolivia to Panama, in the name of drug eradication and interdiction.
http://www.eatthestate.org/05-23/PlanColumbiaAndean.htm
...While ostensibly focused on drugs, the $750 million of military hardware deployed via Plan Colombia is used entirely against leftist insurgencies and the farmers that live in the territories they control."
2. Plan Pueblo Panama, PPP, which mostly creates the infrastructure for trade from the US to Panama. But will also lead to the privatization of public services, of which telecommunications, ports, airports, roads, have already been affected. The infrastructure built by PPP will open up the market for cheap products from Mexico and the US, which will likely destroy the local markets and increase immigration to both countries.
3. Free Trade Agreement, TLC or CAFTA, direct trade between the US and Central American countries, in which US products (with lowered prices due to US subsidies) will likely bombard the Central American markets and leave millions out of work. It is estimated that in Honduras, 73% of the GNP will be lost within the first 20 years of TLC/CAFTA (Paunovic, CEPAL, 5/2005). Already with NAFTA, Mexico has lost 1.3 million jobs in agriculture and immigration to the states has multiplied (Mazzei, Global Access Project, 2005). PPP and TLC are basically a part of FTAA or ALCA in Spanish, which attempts to eliminate all barriers to trade in the Americas, for more information, check out ACERCA //asej.org/ACERCA/ftaa.
During the final day of the summit, the presidents agreed to wholeheartedly support Enrique Bolaños, the unpopular president of Nicaragua, against any "opposition forces that asks for his resignation" (La Prensa, 7/1), no doubt to ward off any notion that the Sandinistas, who are strongly against CAFTA, can take control during the next election, a real possibility as they currently control major cities, including Managua, the capital, and traditionally conservative Granada. The Central American presidents also agreed to put more energy in combating the gang problem in many of the countries, including US Assistant Secretary of State, Dan Fisk and President Fox, though no specifics were made. Activists are worried that the same tactics as before will be increased, actions that target youth, like random arrests of youth for tattoos. In Honduras some 2,300 cases of assassinations of children and youths have been reported, many with connections to police (Scoop Independent News, 9/10/04). Also, as the police are given more rights to crack down on gang violence, political and human rights groups have been harassed and offices raided. None of this has stopped the actual problem of gang violence, which activists say more jobs, a livable wage and a total cleansing of all the corrupt politicians and police who benefit from the gangs through their own hand in narco-trafficking.
As protesters spoke about the ill-effects of neo-liberal trade, sang, and chanted, "Que se vayan!", for all the corrupt presidents and corporations to get out of Central America, the press chose to focus more on gang issues, the inauguration of a PPP highway and a Central American passport, than discuss the impending disastrous effects of CAFTA. In fact, Fox and Uribe of Columbia didn't even show up to discuss the hot topic, according to La Prensa, a popular Honduran newspaper (7/1). Taking a look at Honduras alone, a country with 7 million people, lots of US economic ties, the large US Palmerola Air base and US handouts (US just approved $215 million from their "Millennium Challenge Account, The Nica Times, 5/27), but as Eduardo Galeano said, "Charity consoles but does not question." So, even with the abundance of help from USAID, NGOS, and plenty of US Peace Corps workers running around, none of this has changed the fact that 7 out of 10 people live in poverty, (CEPAL). That minimum wage is $114 a month, when $200 a month is needed to cover basic needs, (PNUD, Informe annual 2003). That everyday in the paper you can read about the maquiladoras, abundant in the free economic zone of Honduras, firing workers, like a Victoria Secret subcontracted factory who fired 45 workers for trying to unionize, or GAP, who's subcontracted factory up and left leaving 400 workers out of work (Vida Laboral). But most of all, Hondurans, like all Central Americans, are worried about the affect CAFTA will have on their local agricultural market. In Central America and the Dominican Republic, there are some 80,000 rice producers, which provides 1.5 million jobs. Out of this 80,000, 75% are small rice farmers without access to credit, technology, or even irrigation. With CAFTA, these farmers are up against US technology, super-efficient equipment, and subsidies that artificially reduce rice prices, 1,279 million in 2003 alone (Oxfam Informe 68, 2004). The Honduran rice market, which has already been dominated by US rice, is just one example of what is to come. "In 1991 Honduras reduced the tariff on imported rice to cover the occasional shortage by droughts, so they decided to import rice from the US, the equivalent of their annual consumption. Suddenly the local producers lost their entire market" (Oxfam, 11/2004). A startling 139,000 jobs were lost due to the initial invasion of US rice (Vida Laboral, 5/2005). In the past 20 years, the number of rice producers went from 25,000 to 1,100 of which now 4 wealthy producers control most of the local market (Vida Laboral).
In a letter of resistance to the presidents and officials of Central America from the National Coordination of Popular Resistance and the Honduran Coalition of Citizen Action, CHAAC http://www.bilaterals.org/article.php3?id_article=2217, they argued that these neo-liberal treaties are "traps", neo-liberal so-called gifts of the freshly inaugurated PPP highway that borders Honduras and Guatemala, investments, and maquila jobs that always come and go are traps to give the US more control over Central America. CAFTA and the impossible $5,660 million dollar debt, where in "2004, $268.7 million was paid and this year was raised to $398 million." (from Foro Social de la Deuda en Honduras), is enough of a trap to keep Honduras under US control forever. (Hondurans are fighting for a 100% drop in debt, which will be mentioned during the current G8 meetings.)
For years now the Bloque Popular of Honduras has been struggling against CAFTA and PPP, a network of organizations including campesinos, indigenas, students, and environmental groups and more. It was hard not to notice the 200 or so junior and high school students leading the way with their marching band and sporadic running, and lively chants. During the start of the march, one high schooler clarified that, "We students are here in the march to say no to CAFTA, because for us students, it means no jobs, no choices, no access to education..." Other youth groups were present, including Los Necios, a collective of some 35 youth who keep alive the spirit of resistance through art, political film, their communal library and office, and newspaper, Los Necios www.losnecios.org. Active in encouraging more youth to become active, one young woman told me, "For us, it's important that we struggle now, because we are young, students, but for my mother and father, they have to work, so it's our responsibility to fight." Many campesinos and indigenas from various parts of the country came and helped to block off the roads to the hotel where the presidents met. When we returned the next day to the rally site, I was surprised to see "No PPP!" spray painted next to the neighboring mall and "No Plan Columbia! No TLC!" sprayed right on the gates of the hotel. Dotted along the highways and streets I found more political messages. Network COMAL was also present, working towards auto-sustainability and away from NGO dependency. COMAL www.comal.org.hn, Alternative Community Commercialization, is "an association of small producers and consumers promoting the production of campesino goods" (COMAL). One of their main achievements has been putting local fair trade goods on the supermarket shelves in Honduras through their own fair trade company, ECOCOMAL, with products like Soya, café, platanos, basic grains, all created with fair wages to the workers, and fair treatment to the environment. redcomal@hondutel.hn. FUTH, a federation of 21 unions with over 10,500 affiliates, was also present. For more on Honduran labor http://countrystudies.us/honduras/65.htm Other groups that took to the streets were COFADEH, www.cofadeh.org, Committee for the detained and disappeared in Honduras, an organization that remembers and educates about the horrible disappearances and tortures during the 80's up till now with the assassination of Edickson Lemus, a leader in the campesinos struggle helping to reclaim land that was taken from campesinos. Murdered on May 24th, 2005 with 4 bullets to the head, assuring the public that this was no accident. http://www.foodfirst.org/node/1146/print "The façade of their agenda is to join the theme of employment and gangs, but our agenda is the continue fighting for the rights of the people, our national sovereignty, democracy, solidarity, cooperation, and our sustainable development which should be the principals of each integrated treaty" (letter).
With a mountain of labor, human rights, and environmental struggles pressing upon Hondurans, and many Central Americans, no one here believes CAFTA will save them. Every country in Central America has been struggling against CAFTA, when CAFTA was signed in Guatemala, protests arose as 65% of Guatemalans thought that CAFTA "would hurt the country" (American Program, 4/13) and were violently suppressed by the military and police leaving one campesino dead. Costa Rica, who guarantees certain social benefits for the people, has refused to sign, but pro-US president is still trying to push CAFTA. And Nicaragua, where everyone seems to understand that CAFTA is a "juego", a game, for the US, is stuck in disagreement. But, really the problem and responsibility falls on the US. After a close win in the Senate, now it's up to the House to vote before the July 28th deadline. If it's not too late, you can still tell your US representative not to vote for CAFTA, www.unionvoice.org/campaign/CAFTA_House_btl. Or you can even send an e-card of the sour deal to your representative at Florida Fair Trade Coalition www.flfairtrade.org. Or check out the Guide to Stop CAFTA www.stopcafta.org
"So that labor may be increasingly obediant & cheap, the poor countries need legions of executioners, torturers, inquisitors, jailers, & informers.

To feed & arm these legions, the poor countries need loans from the rich countries.

To pay the interest on these loans, the poor countries need more loans.

To pay the interest on the loans on top of the loans, the poor countries need to increase their exports.

To increase their exports, products condemned to perpetually collapsing prices, the poor countries need to lower production costs.

To lower production costs, the poor countries need increasingly obedient & cheap labor.

To make labor increasingly obedient & cheap, the poor countries need legions of executioners, torturers, inquisitors..."

Eduardo Galeano, Century of the Wind, p271
[article.to_original.email.prefix]: kindlady76@hotmail.com
Corrections!
by jen at 14.Jul.2005 01:41
The following stat is incorrect...
It is estimated that in Honduras, 73% of the GNP will be lost within the first 20 years of TLC/CAFTA (Paunovic, CEPAL, 5/2005).
Also, as was pointed out to me, there is no country called ColUmbia, but there is a ColOmbia!!!
---
honduras | tlc | www.agp.org (archives) | www.all4all.org