archivos de los protestos globales
archives of global protests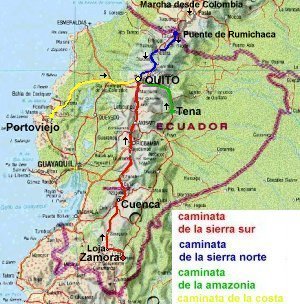 A los hermanos y hermanas
A la Prensa Nacional e Internacional
A tod@s los que luchan por otro mundo posible.
To our brothers and sisters
To the National and International Press
To all those who are fighting for another possible world.
For over a year, we have been working hard to make a reality the caravans for diversity and resistence against the FTAA. In this way various workshops, forums, meetings, and assemblies in all of the national territory have been realized, allowing us to diffuse and amplify the discussion of the Free Trade Area of the Americas, and to strengthen the mobilization for the 31st of October and the 1st of November of 2002.
At this time we are absorbed in the moment of the elctions, and as a campesino organization we have good possibilities of attaining a significant presence in the parliament and in local governments. But the struggle is permanent, and is being fought in diverse scenarios. Because of this we have joined together with the CONAIE, and other social organizations of the country and have succeeded in agreeing to a space of unity. We have advanced in the convocation of the day of Continental mobilization.
Compañer@s, the caravans will be converted beginning with the 23rd of October into walking caravans, and will go strengthened by the massive presence of the men and women of the country. With this project we hope to shar with you our trip. Certainly the majority of the names of the towns and communities are going to seem strange or different but that how we are, and we invite them to share our forms of resistence, solidarity and struggle.
3.- TIMETABLE FOR THE MARCH
WALK TO THE SOUTH SIERRA
Activity
Date
Place
Hour
Run
Departure
Destination

Initial walk of South Sierra

23 Oct.

Parque central de Zamora

10:00 AM

Zamora

Loja

Lunch and Rest

Via a Loja

14 horas

Via a Loja

Loja

Continuation of the Walk

Via a Loja

15 horas

Via a Loja

Loja

Refreshments and Rest

Joja

18 Horas

Joja

Joja

Second day of the walk

24 Oct.

Parque central de Loja

9 horas

Loja

San Lucas

Lunch

San Lucas

13 horas

San Lucas

San Lucas

Rest

San Lucas

13 horas

San Lucas

San Lucas

Continuation of the Walk

San Lucas

15 horas

San Lucas

Saraguro

Refreshments and Rest

Saraguro

18 horas

Saraguro

Saraguro

City Forum

Saraguro

19 horas

Saraguro

Saraguro

Rest and Refreshments

Saraguro

21 horas

Saraguro

Saraguro

Start of the March

25 Oct.

Saraguro

06 horas

Saraguro

Cuenca

Concentration of the Delegations

Plaza de san Roque

09 horas

Cuenca

Cuenca

Women's Continental Welcome Meeting

I. Municipio de Cuenca

10 horas

Cuenca

Cuenca

Press circle

Salón de la ciudad

10 horas

Cuenca

Cuenca

Participation in the continental meeting

Universidad Estatal

11 horas

Cuenca

Cuenca

Lunch

Cuenca

14 horas

Cuenca

Cuenca

Participation in the continental meeting

Universidad Estatal

15 horas

Cuenca

Cuenca

Refreshments and Rest

Albergue Municipal, Salecianas

21 horas

Cuenca

Fourth day of Walking

26 Oct.

Parque Calderon

9 horas

Cuenca

Azogues

Lunch

Azogues

13 horas

Azogues

Cañar

Continuation of the Walk

Azogues

15 horas

Azogues

Cañar

Lunch and Rest

Cañar

18 horas

Cañar

Cañar

Reception of the foreign delegations

27 Oct.

Cañar

Cañar

Cañar

Special programm

Cañar

10 horas

Cañar

Cañar

Sixth Day of the Walk

28 Oct.

Parque central

6 horas

Cañar

Chunchi

Continuation of the Walk

parque Central Chunchi

8 horas

Chunchi

Alausí

Rest

Parque de Alausí

10 horas

Alausí

Guamote

Continuation of the Walk

Municipio de Guamote

12 horas

Guamote

Cajabamba

Lunch

Colta

13 horas

Cajabamba

Riobamba

Rest

Riobamba

15 horas

Riobamba

Ambato

Concentration of the Delegations from the Amazon and the Sierra

Entrada sur de Ambato

17 horas

Ambato

Refreshments and Rest

Ambato

20 horas

Ambato

Seventh day of the Walk

29 Oct.

Parque central de ambato

7 horas

Ambato

Latacunga

Concentration of the delegations of Cotopaxi

Latacunga parque central

11 horas

Latacunga

Latacunga

Shaman Ceremony

Latacunga parque central

12 horas

Latacunga

Latacunga

Lunch

Latacunga parque central

12 horas

Latacunga

Machachi

Continuation of the Walk

Parque central

15 horas

Latacunga

Machachi

Refreshments and Rest

Guamani

18 horas

Guamani

Departute to Quito

30 Oct.

Guamani

6 horas

Guamani

Arbolito

Participation in the continental meeting

Quito

Massive Mobilization of the Delegations

31 Oct.

Parque del Arbolito

PICTURES
WALK IN THE NORTH SIERRA
Concentration Point of Rumichaca

28 Oct.

Puente de Rumichaca

10 horas

Rumichaca

Tulcán

Lunch and Rest

San Gabriel

13 horas

Tulcán

San Gabriel

Continuation of the Walk

San Gabriel

16 horas

San Gabriel

Ibarra

Meeting

Parque Central

17 horas

Ibarra

Ibarra

Rest

Otavalo

21 horas

I. Municipio

Second Day of the Walk

29 Oct.

Parque central

7 horas

Otava

Cayambe

Meeting of the Organizations

Parque Central

10 horas

Cayambe

Cayambe

Lunch

Parque Central

10 horas

Cayambe

Cayambe

Departure of the Delegation

Parque central

15 horas

Cayambe

Calderon

Refreshments and Rest

Calderon

19 horas

Calderon

Third Day of the Walk

30 Oct.

Calderon

7 horas

Calderon

Arbolito

Departure to Quito

Calderon

10 horas

Parque del Arbolito

Quito

Participation in the continental meeting

Quito

Mobilization Quito

31 Oct.

Parque del Arbolito

PICTURES
WALK IN THE AMAZON
| | | | | | |
| --- | --- | --- | --- | --- | --- |
| Concentration in Tena | 27 Oct. | Parque de Archidona | 9 horas | Archidona | Tena |
| Lunch | | I . Municipio de Tena | 13 horas | Tena | |
| City Forum | | Municipio | 15 horas | Tena | |
| Continuation of the Walk | | Parque central de Tena | 17 horas | Tena | Quito |
| Participation in the continental meeting | 28 Oct. | Quito | 9 horas | Quito | |
CAMINATA DE LA COSTA
| | | | | | |
| --- | --- | --- | --- | --- | --- |
| Concentration in Portoviejo | 29 Oct. | Parque Eloy Alfaro | 10 horas | | |
| March in the streets of Portoviejo | | Gobernación | | | |
| Start of the March | | | 12 horas | Portoviejo | Quito |
| Concentration in Guamani | | Guamani | 21 horas | Quito | |
| Departute to Quito | 30 Oct. | Guamani | 6 horas | Guamani | Quito |
| | | Parque del Arbolito | 10 horas | Quito | |
---