archives of global protests - archives des protestations mondiales - archivio de los protestos globales
Dance Around the G8
Pink Silver, Pink, and Silver - Contested Identities Against the G8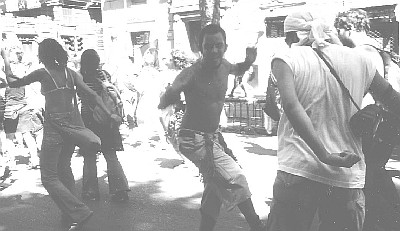 Pink Silver: dancing round the G8
Note to Web version - this was handed in as an anthropology dissertation in 2002. This is why issues of identity, symbols etc are heavily concentrated upon. It is published as html version in the hope that it might be of use to activists planning future Pink Silver blocs, and as a historical document regarding the G8 summit and in particular the Pink or Pink Silver group. The formatting is messed up, and most of the photos are ommitted because of the size of the file. Even worse, the photos only appear in the right place on the screen in internet Explorer - in Netscape Navigator the photos obscure the text - I don't know why this is, but you've been warned. Any comments to anarchy@cyber-rights.net.
---
Abstract
Investigation of anarchist group called Pink Silver at anti-capitalist protest in July 2001 in Genoa, Italy. Introduction to the anti-capitalist movement, the protests against the G8, and an outline of the composition of the protest community in Genoa supply the contextual background information for analysis and narrative of the Pink Silver group, with particular interest paid to the interplay between ideology and forms of organisation, the symbolic construction of community and use of symbols and metaphors to differentiate the individual and the group from other groups and individuals.
Table of Contents
---
Acknowledgements
A text version of a dissertation. Special thanks go out to Isabella Hawkings and Starhawk for ideas about Pink Silver, and all those activists that have made this study possible.
---
Introduction
Non-Governmental Organisations (NGOs)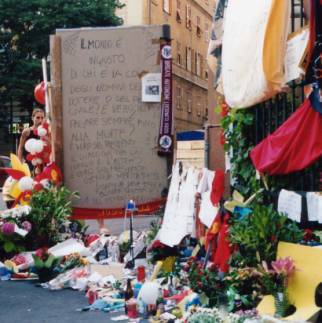 Memorial to Carlo Guliani in piazza Alimonda: activists individually added
their own items of clothing, messages and other items to this memorial.
Limitations of Decentralised Organisation
---
Appendix A - Mayday Flier
Appendix B - « Pink » Working Paper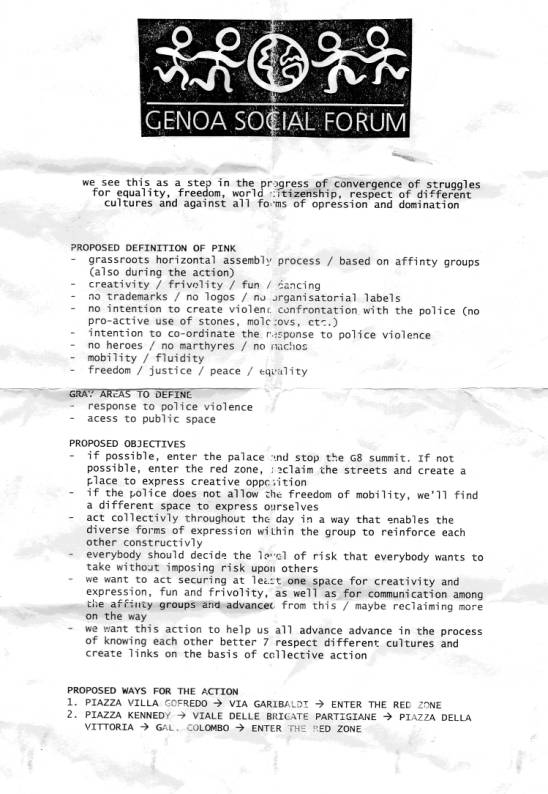 ---
References
Bibliography
Balandier G - Political Anthropology; Allen Lane The Penguin Press, 1970.
Barth F - Process and Form in Social Life: Volume I; Routledge and Kegen Paul, 1981.
Barth F (ed.) - Scale and Social Relations; Universitetforlaget, 1978.
Bell S and Coleman S (ed.) - The Anthropology of Friendship; Berg, 1999.
Bircham E et al - Anti Capitalism: A Guide to the Movement; Bookmarks Publications, 2001.
Chan A - « Anarchists, Violence and Social Change: Perspectives from Today's Grassroots », in Anarchist Studies, Vol.3 No.1, Spring 1995, p45-68.
Clifford J - « Fieldwork, Reciprocity, and the Making of Ethnographic Texts: The Example of Maurice Leenhardt », in Man, Vol.15, No.3, September 1980, p518-532.
Cohen A - The Politics of Elite Culture: Explorations in the Dramaturgy of Power in a Modern African Society; University of California Press, 1981.
Cohen A - Two Dimensional Man; Routledge, Kegan Paul, 1974.
Cohen A P - Self Consciousness: An Alternative Anthropology of Identity; Routledge, 1994.
Cohen A P - The Symbolic Consutruction of Community; Tavistock Publications, 1985.
Cohen A P (ed.) - Signifying Identities: Anthropological perspectives on boundaries and contested values; Routledge, 2000.
Cohen A P & Rapport N (ed.) - Questions of Consciousness: ASA Monographs 33; Routledge, 1995.
Collin M - Altered State: The Story of Ecstasy Culture and Acid House; Serpents Tail, 1997.
Eriksen T - Ethnicity and Nationalism: Anthropological Perspectives; Pluto Press, 1993.
Goldman E - Anarchism and Other Essays; Dover Publications, 1969.
Hammersley M and Atkinson P - Ethnography: Principles in Practice; Routledge, 1995 (2nd ed.).
Harper C - Anarchy : Graphic Guide; Camden Press, 1987.
Klein N - No Logo; Flamingo, 2000.
McKay (ed.) - DiY Culture: Party and Protest in Nineties Britain; Verso, 1998.
Nordstrom C & Martin J (ed.) -The Paths to Domination, Resistance and Terror; University of California Press, 1992.
Ritzer G - The Macdonaldization of Society; Pine Forge Press, 1993.
Searle D - Gathering Force : DIY Culture - Radical action for those tired of waiting; The Big Issue Writers, 1997.
Woodcot G - Anarchism; Penguin, 1962.
Woodcot G (ed.) - The Anarchist Reader; Fontana, 1977.
We Are Winning! : The Battle of Seattle - A Personal Account; London, 2000.
Back to Global Days of Action...
---