archives of global protests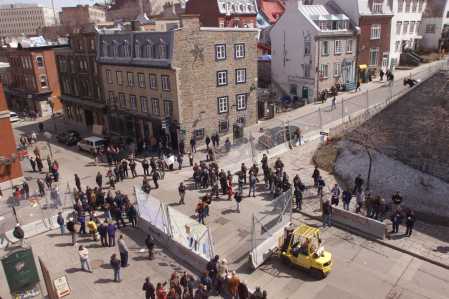 A19: The Wall
Taking to the streets:
Zoe part 6
by zoe mitchell, Thu Apr 19 '01
zoe_mitchell@yahoo.com

Tonite the marches began...
Source: Indymedia DC
More than 2500 people took to the streets from the Universite Laval to the perimeter tonite. It was one of those incredible marches where the energy level was so high, and the anticipation was so great...that the power of the people was actually felt.
While there was a slight concern about the possibility of a pre-emptive strike (think A15 last year), most people wanted to march anyway. After planning these protests for a year, many expressed relief that "it" was actually happening and that there was a lot of energy to make these protests matter.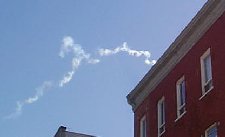 A20: Teargas
The majority of the march took place on Rene Levesque--a very long street with a lot of residential properties. From these homes and apartments, people watched the march from their porches and their windows occasionally shouting messages in support of the protesters and raising their fists. There were a few people, inside their homes, who through their parted windowshades looked aprehensive about the march. But, if anyone looked aprehensive, it was the people who were driving down the road, and got caught up in the march.
The cops led the march down Rene Levesque, but the popular consent from the protesters in the front, was to catch the cops off guard and take to the streets without escorts. Thus, the march turned left on Cartier, right on Sherbrook and down a large hill to lose the cops. The inevitably caught up with the protesters, but there was a lot of excitement was the cops were evaded.
One of the amazing things about the march, was the tri-lingualism. Chants were in French, English and Spanish and everyone chanted along with the language they were most familiar with. It was a very open environment where people of all different languages could express their distaste for the FTAA.
On the whole, protesters thought that this march was just the start. That tomorrow would be much more important and would truly show the world the diversity of opposition to the FTAA.
---